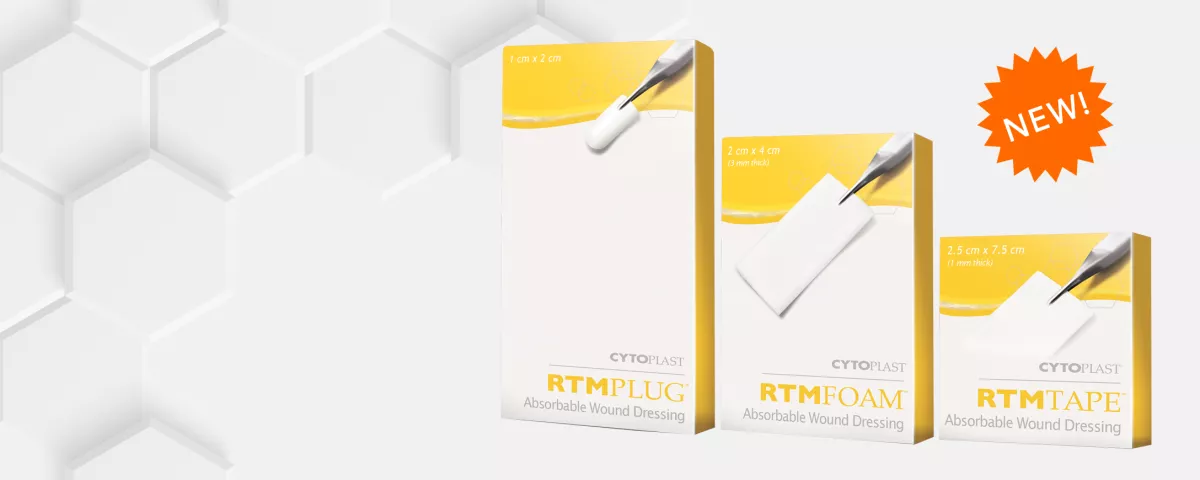 Cytoplast™ Wound Dressings
RTMPLUG, RTMFOAM, & RTMTAPE
OVERVIEW
The Cytoplast RTM Plug, Foam and Tape are absorbable collagen wound dressings designed to absorb blood or fluids and to protect the site for optimal regeneration. They are made from Type I & Type III bovine collagen and will be resorbed within 30 days.
PROTECTION OF THE WOUND BED
Can provide protective coverage to oral wounds and delicate new tissue
AIDS IN WOUND HEALING
Absorbable wound matrix can help control bleeding and to stabilize the blood clot
HIGHLY ABSORBENT
Enables absorption of a large amount of fluid and maintains their structure even when wet
 
APPLICATIONS1: Surgical wounds • Periodontal surgical wounds • Extraction sites • Dental sores • Oral ulcers (non-infected or viral) • Suture sites • Burns • Traumatic wounds
1.Reference manufacturer's instructions for use (IFU) package insert
Let's Get Started
Fill out the form below and our team of biomaterial experts will reach out to you.